In honor of Women's History Month, members of the Alliance of Career Development Nonprofits (ACDN) held events in March in select cities in the U.S. aimed at helping women prepare for employment. Smart & Sexy Day events inspire women – boosting their self-confidence so that they feel assured, confident and, most of all, employable. The holiday was launched in 2012 by the Alliance and sponsored by Ariela & Associates International, one of the largest privately held lingerie companies in the country. The official holiday designation is on March 13th.
We asked our ACDN Member Smart & Sexy Day hosts to offer a snapshot of their event in their own words and its impact on their clients:
IMAGE FOR SUCCESS (SAN RAFAEL, CA) – March 9th
Twenty low-income women gathered at Image for Success (IFS) in San Rafael to celebrate "Smart and Sexy Day" in connection with Women's History month. The women learned about local job search resources and strategies from Caren Cuneo of the Marin Employment Connection.
They discovered the wardrobe colors and styles that not only flatter your figure but dress you for success from Jenny Bailey, a style consultant. Plus, the women were shown practical and fast make-up application techniques from Grace Pescador, Mary Kay beauty consultant. "It was a fun, uplifting day full of information and tips I'll use in my professional life," said one attendee. Another added, "It was a beautiful day! I was made to feel special."
Each participant received a bra fitting and complimentary Smart & Sexy bra from Ariela & Associates. As one attendee said, " You have to have the right undergarment so your whole package shines."
This is the fourth year Image for Success has held the event. – Diane Ettelson, Executive Director, Image for Success, San Rafael, CA
LADIES OF VALOR EMPOWERMENT (NORTH MIAMI, FL) – March 12th
This year, the 2016 L.O.V.E. Empowerment / Smart & Sexy Day was a huge success with over 60 attendees to include many elected officials and member from the media. The event Mistress of Ceremony was Ms. Janey Tate, Reporter, Miami Times. The Mayor from the City of North Miami, Dr. Smith Joseph presented a certificate of appreciation to founder Lady Alourdes Pierre for making a difference in the community. The event was also visited by three members from the City Councils who brought greetings to the audience and shared their contentment for the work the Ladies of Valor Empowerment (L.O.V.E.) is doing in the community. The (L.O.V.E.) organization is now working with high school middle and senior high schools called the Youth of Valor Empowerment (YOVE), they are dressed in pink and black, they will be joining with me as we continue to promote Smart & Sexy in the North Miami community.
During the event, the organization was presented with a $1,500.00 from State Farm to assist with Financial Literacy Training. In addition, the group dressed in black and pink suits is the LOVE team.
The Ladies of Valor Empowerment (L.O.V.E.) has been hosting the National Smart & Sexy Day holiday event in Celebration of Women's History Month in partnership with ACDN for the past three years in the City North Miami, a city with the largest Haitian immigrants in the State of Florida. This annual event has really impacted the L.O.V.E. program being the only one hosting this type of event in the community where each L.O.V.E. ladies receiving bring new undergarments upon their participation at the event. Each year the event is getting bigger and better, Smart & Sexy is the name of the brand in the community. In addition to the ladies, now the youth it was an "aha moment" and it is a new experience for them, arriving early to assist with setting up and to have their measurement taken, it was the first for them. Everyone who came to the event, left excited including the elected officials, and filled with hope that tomorrow will be a better day in the community with the L.O.V.E. organization, and with supporter like ACDN and Smart & Sexy, we can not go wrong. – Alourdes Pierre, Founder/CEO, Ladies of Valor Empowerment (L.O.V.E.), North Miami, FL
BOTTOMLESS CLOSET (NEW YORK CITY, NY) – March 15th
To celebrate the 5th annual Smart & Sexy Day in New York, Bottomless Closet expanded the reach of the day by including a broader group of stakeholders. We partnered with our supporters at Wells Fargo to host the event in their beautiful Executive Events Center located in Wells Fargo's Midtown corporate offices. By bringing the event to a corporate partner, we were able to involve Wells Fargo's key staff in the planning of Smart & Sexy Day and the day's activities. After the event, Bottomless Closet Volunteer Roberta Dougherty, who had led a presentation at the Smart & Sexy Day on understanding workplace culture and clothing style, shared her experience of that day with almost 40 Bottomless Closet volunteers at Bottomless Closet's Volunteer Lunch and Learn. Volunteers who were not previously familiar with the Smart & Sexy brand or the Alliance of Career Development Nonprofits are joining Twitter so they can tweet what #SupportMeans to them!
29 women attended Smart & Sexy Day to hear from speakers on topics including business etiquette and cubicle culture as well as dressing for a job interview on a budget. The bra fittings and bra giveaways were a great hit, with clients gushing that they "loved this workshop" and were "inspired to look [their] best and be confident in the workplace". – Patrycja Warda, Program Director, Bottomless Closet, New York City, NY
CAREER WARDROBE (PHILADELPHIA, PA) – March 14th
This year, Career Wardrobe's Smart & Sexy Day fell on a cold and rainy Monday morning. But the dark and stormy weather didn't stop twelve passionate and driven Philadelphia women from partaking in 2016's Smart & Sexy Day at Career Wardrobe! These women brought not only themselves but their rich, inspirational life stories. Kimberly Saunders, CEO and "Energy Innovator" at the National Charity of Education and Humanity, gave a talk entitled "Ways to Remind Yourself How Powerful & Beautiful You Are!" Kimberly helped attendees focus on leveraging their inner beauty and strength to bridge the gap between their present state and their future goals.
By the afternoon, the rain had stopped and the clouds began to give way to some sunshine. It was the perfect opportunity for our guests to get fitting for their brand new Smart & Sexy bras! Soon it was time for the upbeat entrepreneur, Sammy Davis, to take the stage. Sammy D spoke from the heart as she described the pitfalls of trying to reach perfection. Sammy led the group in a wonderful activity aimed at loosening the emotional bonds we place on ourselves when we struggle with never achieving perfection. Sammy D taught us to let go of perfection and embrace ourselves for who we are! Attendees were delighted when Sammy stayed afterwards and signed complimentary copies of her book "Love Your Life!" Everyone left the event with a wonderful sense of personal empowerment and a real appreciation for the outpouring of support from Smart & Sexy and ACDN. – Ken Fenimore, Education Program Associate, Career Wardrobe, Philadelphia, PA
SUITED FOR SUCCESS (OKLAHOMA CITY, OK) – March 17th
Smart & Sexy Day was celebrated in Oklahoma City on March 17, at OSU-OKC. We had 30 students from four of our Referring Partners, 3 guest speakers, and 5 board members attend. The day started with How To Show Off Your Professional Self Image presented by Donna Rynda, Make It Matter. Then Building Your Professional Wardrobe, with a few tips from Susan Walton, Suited For Success Executive Director and lots of group participation putting outfits together and changing them up using 12 key pieces of clothing. There was a break for lunch and a few motivational thoughts from Elizabeth Larios with the YWCA Economic Empowerment Program. One of our favorite Smart & Sexy Day speakers Sharon Barrows Cooper, BarrowsCooperCoaching, stressed the importance of Work Life Balance.
The highlight of the day is the bra fitting; the participants learn how to properly measure for their exact size and receive a beautiful Smart & Sexy bra. Each participant received a measuring tape to take home so they can continue to wear the correct size bra and help family and friends do the same. #SupportMeans wearing the correct size bra for comfort and support. – Susan Walton, Executive Director, Suited for Success, Oklahoma City, OK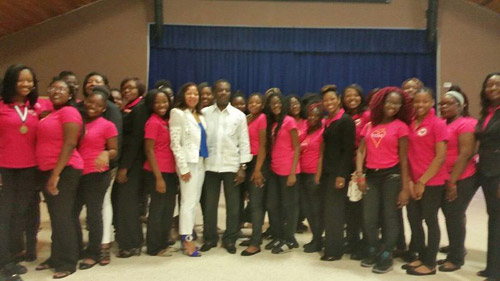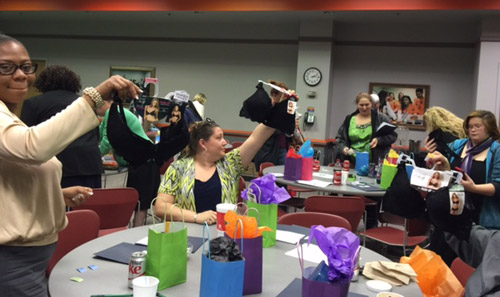 #SmartandSexyDay, #SupportMeans